Online Shopping scams and very common these days, during times of uncertainty, adversity, and fear, hackers, scammers, and Cybermonsters increase their efforts to attack your safety.
Did you know they increase their efforts during happy and joyful times, like celebrating global sports events and the holiday seasons? Ever wonder why?
First, for Cybermonsters, no matter when, scams and infected emails, texts, and calls have the purpose of stealing our sensitive information and money. Scams involve someone posing as a legitimate seller, promising a deal that seems too good to be true, or taking advantage of a person's generosity.
Second, during times of celebration, we are most distracted with fantastic food, the company of loved ones, and perhaps the excitement of buying gifts and finding great deals. Cybercriminals often target shoppers looking for gifts for family members, friends, or coworkers. They might offer free shipping, a gift card, or even cash.
Lastly, because that's what Cybermonsters do, they disrupt our lives. They shouldn't be allowed to ruin our families and our precious time together. Luckily, this year we can choose to Be I AM. Be Intentional, Aware, and Mindful, and avoid ruining our holidays by getting scammed and ripped off.
Be Intentional
The holidays are a great time to shop online. And this is also a great time for scammers to do online shopping scams. When we incorporate "Be Intentional" it becomes so much easier and better. I remember that a couple of years ago, my husband and I wanted a new TV for our living room. We browsed everywhere and found the kind of TV and the price we wanted. And we got it on Black Friday!
In the same way, you want to know the best deals to look out for, so you intentionally go after them. Knowing what the most common holiday scams are can help you avoid them.
A common type of holiday scam is the non-delivery scam. This occurs when a consumer buys something online, but the item doesn't show up. The scammers usually claim that there was some sort of mistake, such as a wrong address, credit card number, or delivery date.
Another common holiday scam is the non-payment scam. Here, Cybermonsters take advantage of someone's generosity by asking for a donation for a charity or cause. Once the transaction is complete, the criminal either fails to send the funds or sends fake ones.
In both cases, the goal is to steal money, personal information, or just make a fool of someone. If you're unsure whether a deal sounds phishy, check the Better Business Bureau (BBB) or the Federal Trade Commission (FTC) site.
Be Aware
According to Experian, one in four shoppers has fallen prey to scammers during the holiday season. So if you receive a suspicious email or text message, don't respond immediately. Instead, examine it carefully. Notice and observe it.
Did you really order that? Is it too good to be true? And if you spot a potential scammer, take photos or video of them and report it to the FBI's Internet Crime Complaint Center (IC3) so others don't fall for the same.
Below are the top 3 scams (online shopping scams) to be aware of this holiday season and what to do: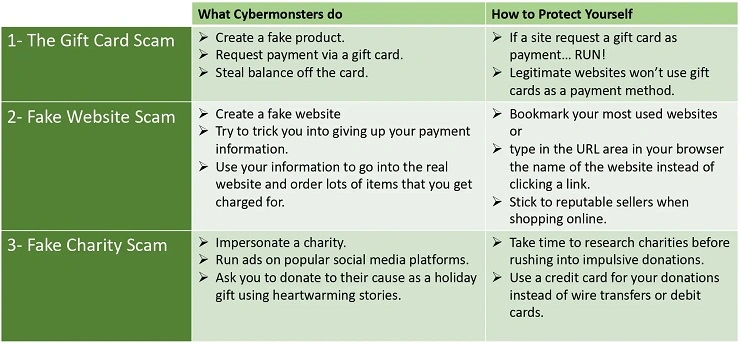 Be Mindful
Stay fully present! Back Friday or Cyber Monday holiday shopping could be a great time to incorporate short practices, breathing, pausing, and observing whether you are online or at the mall. It could be a wonderful experience that may surprise you!
When we stay fully present, it also means using our devices effectively. For example, use your cellphone carrier and a VPN instead of connecting to public Wi-Fi if you are shopping on the go. Before the holidays rush, update all of your devices and apps so they are ready to support your shopping needs!
If you click on a phishing link during a distracting moment, take a deep breath and act immediately. If you provided your login credentials, change your password right away. Choose a new password that has meaning and protects your information.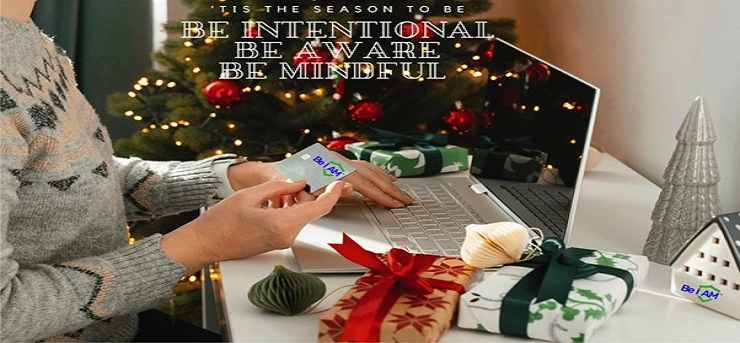 Staying safe during this holiday season can be a new adventure as you incorporate the Be I AM practice. We deserve to have Peace of Mind Online!
So, besides shopping, please share with us what you like the most about the holidays. What are you looking for this year? I'm excited to enjoy family time and watch my favorite movies with my delicious non-dairy hot cocoa!
Remember, Be Intentional, Aware, and Mindful. Be I AM! Be I AM Now!